---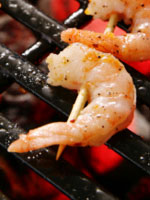 Shrimp, scallops, and plenty of fresh vegetables makes this low-cal recipe for Seafood Kebabs an excellent summery treat.
Prep: 15 minutes, plus 2 hours to marinate
Cook: 10 minutes
Makes 4 servings
Ingredients:
3/4 cup extra-virgin olive oil, divided
1 tablespoon Italian seasoning
2 garlic cloves, peeled and minced
1 tablespoon fresh lemon juice
3/4 pound raw sea scallops
3/4 pound raw jumbo shrimp, peeled, and deveined
8 skewers
8–10 large mushrooms, halved
1 cubed red bell pepper
1 cubed yellow bell pepper
1 cubed green bell pepper
2 onions, cut into 1/4-inch-thick wedges
2 zucchini, cut into 1/2-inch-thick slices
Instructions:
1. Combine 1/4 cup of the olive oil, dry spices, garlic, and lemon juice in a resealable bag. Add scallops and shrimp, shake, and refrigerate for 2 hours.
2. After marinating, assemble the kebabs on skewers evenly using shrimp, scallops, and vegetables; baste generously with remaining oil. Grill or broil until shrimp and scallops are opaque, about 10 minutes.
Nutrition:
Calories 323 (39% from fat); Fat 14g (sat 2g, mono 9g, poly 2g); Cholesterol 154mg; Protein 32g; Carbohydrate 18g; Sugars 8g; Fiber 4g; Iron 3mg; Sodium 300mg; Calcium 91mg